"We are enthusiastic members of SIGTTO and have been since the company was founded. Our mission is to manage LNG ships to the highest international standards to meet China's growing demand for clean energy. Fulfilment of this mission is facilitated by our SIGTTO membership."
 (中文版本在下方; Mandarin version is below)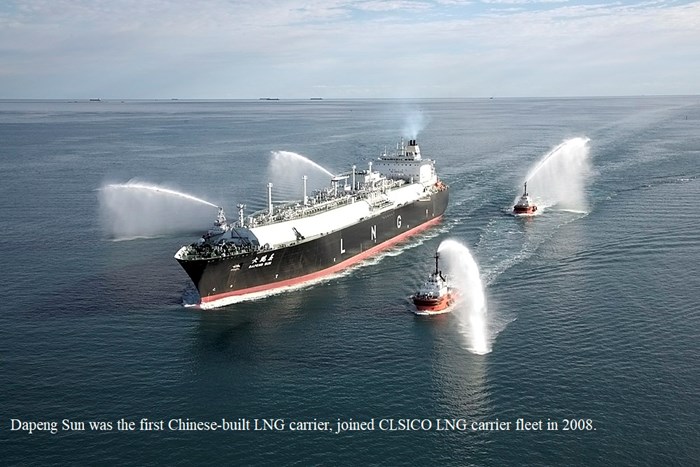 About CLSICO
CLSICO is China's first LNG ship management company. Based in Hong Kong and operating with Chinese and other experienced LNG staff, it aims for the highest operational standards in all that it does and is proud to be serving China's current and future energy needs.
CLSICO was created as part of China's first LNG import project, based on a new receiving terminal at Dapeng Bay, Shenzhen in Guangdong Province. As part of its successful bid to supply LNG to Dapeng, Australia LNG committed to collaborate in a separate project to provide LNG transportation services, under a model based on Chinese majority ownership with foreign support. As part of this project, CLSICO was formally established in April 2004 as a joint venture, registered in Hong Kong, between China LNG Shipping (Holdings) Ltd. (CLNG), a 50:50 JV of COSCO (now COSCO Shipping) and China Merchants, and BP Shipping as the foreign partner and minority shareholder. BP Shipping committed to contribute its LNG shipping experience to support the development of a Chinese capability in LNG ship management.
Ship management agreements for the first two LNG carriers, to be built in China at Shanghai's Hudong Zhonghua Shipyard, were signed in August 2004. Subsequently, CLSICO was awarded contracts to manage two LNG carriers for Fujian LNG, one additional LNG carrier for Guangdong LNG, and one LNG carrier for Shanghai LNG. From the start, the ships were crewed by a mix of Chinese and Western sea staff, the former seconded from COSCO and China Merchants, the latter from BP Shipping.
In July 2013, BP Shipping exercised its option to exit from CLSICO, selling its shares to CNOOC. Notwithstanding BP Shipping's exit, CLSICO will continue to be resourced by a combination of Chinese and Western staff, in the office and on the ships, for the foreseeable future, building on the proven success of this manning model and facilitating effective communications with all parts of the LNG supply chain.
CLSICO achievement
CLSICO employs about 350 people, including 330 sea staff and 23 office staff, and the majority of these are Chinese. The ship manager was pleased to appoint its first Chinese LNG carrier Master in September 2013, and its first Chinese LNG carrier Chief Engineer in October 2015.
Another significant milestone achieved in 2019 was CLSICO reported that its ship had delivered the 1000th cargo for Dapeng Terminal. CLSICO was highly praised for the high quality and high standards management level, to provide safe and efficient services for customers.
In 2020, CLSICO's vessels had sailed for a total of 16 months without any recordable safety incidents. Credit for this achievement can be attributed to the strong safety culture that has been established on board, especially during a period of hardship in the world.
CLSICO and SIGTTO
"We are enthusiastic members of SIGTTO and have been since the company was founded," the General Manager of CLSICO says, "LNG shipping has built up a superb safety record over its 50 years of service and it is up to each individual participant to play its part in preserving the exemplary reputation achieved by our industry. SIGTTO plays a critical role in sharing industry best practice and in maintaining the high standards required of our sector."
"Our mission is to manage LNG ships to the highest international standards to meet China's growing demand for clean energy. Fulfilment of this mission is facilitated by our SIGTTO membership."
Visit Website: http://www.clsico.com/
---

关于CLSICO
CLSICO是中国首家LNG船舶管理公司,我们的使命是致力于满足中国对绿色清洁能源不断增长的需求。 我们不断追求最高的营运标准,并能为中国目前和未来的能源需求作出贡献而感到自豪。
CLSICO起源于中国首个液化天然气进口项目,接收终端位于广东省深圳市的大鹏湾。作为该项目成功中标的一部分,澳大利亚西北大陆架天然气要求配合特设一个以中资为主,外资进行技术支持的液化天然气船运服务项目。在此背景下,CLSICO于2004年4月在香港正式注册成立。公司大股东为中远集团(现中远海集团)和招商局集团(双方各占股份50%)合资成立的中国液化气运输(控股)有限公司(CLNG)。英国BP公司旗下BP航运公司(BP Shipping)以独家外商合作伙伴身份参与项目。拥有丰富LNG船运经验的BP航运公司承诺为中国LNG船运管理的发展作出贡献。
2004年8月,广东LNG项目中首批两艘LNG船建造合约正式签署,由上海沪东中华造船集团负责建造。随后不久,CLSICO另获四艘LNG船舶管理权,分别是:服务于福建接收终端的两艘船、服务于广东接收终端的一艘船,以及服务于上海接收终端的一艘船。公司建立之初,船队船员由中外籍船员共同组成。中方船员由中远集团(现中远海集团)和招商局集团派出,外方船员由BP航运公司派出。
2013年7月,BP航运公司决定履行其退出CLSICO的决议,将其所占股份转售予中海油。尽管如此,在可预见的未来,CLSICO仍将坚持以国际化的团队完成陆上和海上的各项工作,并致力于多元文化的人力资源建设及促进LNG产业各个环节的有效沟通。


CLSICO的成就
CLSICO目前拥有350余名有着丰富LNG船舶和管理经验的的员工,包括330名中外籍船员和23名岸基管理人员。2013年9月,CLSICO任命了中国首位LNG船船长;2015年10月,任命了中国首位LNG船轮机长。
2019年7月,CLSICO船队成功向中国首个LNG码头——大鹏LNG码头交付第1000船货物。CLSICO的高质量高标准的船运管理水平和服务质量得到客户高度认可。
2020年,对整个世界来说都是非常特殊的一年。CLSICO在这年达到连续保持16个月安全营运、无损时事故发生的记录,体现CLSICO一如既往地秉持以安全为核心的经营理念。


CLSICO与SIGTTO  
CLSICO总经理说: "自公司成立起,我们就是SIGTTO忠实的成员。LNG运输行业一直都保持着良好的安全记录,每一位LNG从业者都应该有责任为维护LNG运输行业的良好声誉发挥自己的作用。SIGTTO作为提供LNG资讯的平台,在推广最佳作业规范及标准中扮演重要角色。"
 "CLSICO的使命是将旗下LNG船队打造成符合国际最高水准的LNG跨洋运输力量,并支持中国LNG产业的日益发展,以满足中国对绿色清洁能源不断增长的需求。作为SIGTTO成员将更好地帮助我们完成这一使命。"CLSICO总经理说道。
官方网站: http://www.clsico.com/