"For MGM, the ability to meet and interact with others in the LNG industry across the spectrum of ship operators, terminal operators, class, etc that is possible through SIGTTO events has been an important source of knowledge on safety and international practices."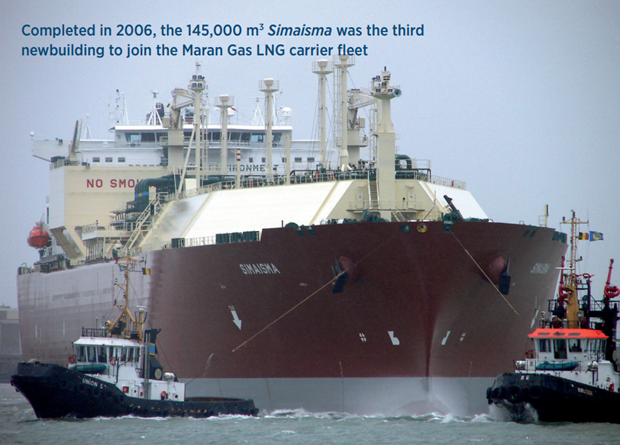 About Maran Gas Maritime Inc (MGM)
Maran Gas Maritime Inc (MGM) is the LNG ship management company of the Angelicoussis Shipping Group Ltd (the Group).
The Group is a privately held company, founded in 1947 by Antonis Angelicoussis, father of Mr John Angelicoussis. Over the last 70 years, the family has grown the business to where it is now the largest shipping company in Greece and the largest privately held shipping company in the world. The Group owns and operates a fleet of over 150 ships, comprising dry bulk vessels, oil tankers and LNG carriers. Today the Group is led by John Angelicoussis, Chairman, and his daughter, Mrs Maria Angelicoussis, Vice Chairman.
MGM was founded in 2003 and placed its first LNGC newbuilding order at Daewoo Shipbuilding and Marine Engineering Co Ltd (DSME) in autumn 2003. MGM's LNG fleet has grown strongly since this beginning, and now encompasses 35 vessels plus one FSRU in operation, along with 10 more LNGCs under construction.
The philosophy of MGM, as well as the Group overall, reflects the owner's commitment to excellence in the shipping services provided to clients. This is reflected in how the company is set up; all activities, from original vessel specification and newbuilding contract negotiation through to construction supervision and post-delivery technical, operational and commercial management, are done inhouse. The Group is committed to having its vessels fly the Greek flag and be manned by Greek senior officers and mostly Greek junior officers with Filipino ratings. All the Group's seafarers are sourced and managed by an in-house crew department which has offices in Athens and Manila.
The Group was the first Greek shipping company to establish an in-house training centre, i.e. the Delphic Maritime Training Center (DMTC) in 2004. Today DMTC has two full-mission bridge simulators as well as tanker and LNG cargo and engine simulators. In 2019 the training centre held over 700 training courses with over 8,000 participants from all three Group ship management companies, i.e. Maran Dry (dry bulk), Maran Tankers (oil tankers) and Maran Gas (LNG).
It has been a guiding philosophy of the Angelicoussis family to develop and maintain long-term relationships. This can be seen in the Group's 25-year relationship with DSME where it has contracted over 100 newbuilding vessels. For MGM, this commitment to long-term relationships is evident in the long-term charter contracts MGM has with Qatargas, Shell, Woodside and, most recently, JERA. By investing in its people and its vessels, the Group is able to provide a superior shipping service to its charterers and thereby gain their trust for long-term charter commitments.
MGM has evolved in tandem with the LNG market, and is able to offer both longterm and short-term charters to its current and future clients. MGM has been fortunate to have served more than 30 clients over its 15 years of operations to date. In addition, Maran Gas was the first company to form a joint venture with Nakilat (Qatar Gas Transportation Co Ltd). From four ships at its inception in 2005, the joint venture has grown steadily and now owns 15 ships. MGM and Nakilat recently formed a second joint venture which will own four newbuilding LNGCs that, upon delivery, will be commercially and technically managed by Nakilat.
MGM and SIGTTO
"MGM has been very appreciative of the opportunity to draw upon the knowledge and guidance contained in SIGTTO publications and to participate in SIGTTO activities," states Richard Gilmore, Director Gas Fleet at MGM. "MGM was invited to join the Society's General Purposes Committee (GPC) in 2006 and has been an active participant ever since. MGM personnel have joined various GPC working groups which developed, or are developing, guidance notes for the Panama Canal, emergency shutdown (ESD), surge, gangways, floating LNG, propulsion and reliquefaction.
"In addition, for the last two years I have been privileged to chair the SIGTTO Panel Meetings," continues Richard. "For MGM, the ability to meet and interact with others in the LNG industry across the spectrum of ship operators, terminal operators, class, etc that is possible through SIGTTO events has been an important source of knowledge on safety and international practices."
Visit Website: http://www.marangas.com/