"The knowledge shared between SIGTTO members has been of immense value to both individual companies and the industry as a whole."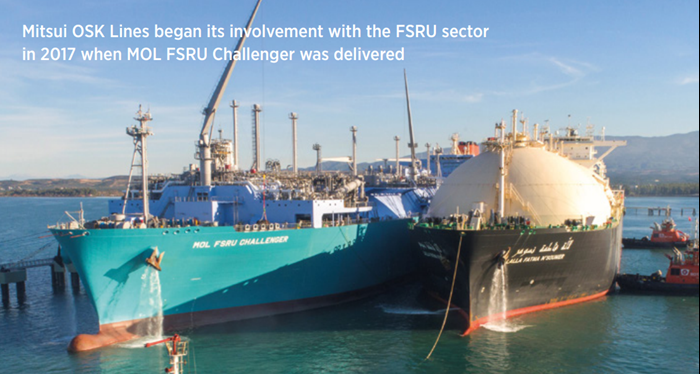 About MOL
Mitsui OSK Lines, Ltd (MOL) can trace its history back to 1878 when the iron-hulled steamer Hideyoshi Maru began transporting Miike coal from Kuchinotsu in Japan to Shanghai. Then, in 1884, the establishment of Osaka Shosen Kaisha (OSK Line) laid the foundation of the company's 135-year journey. MOL is now a multimodal transport group that meets diverse transport needs with one of the world's largest merchant fleets, of 816 vessels, and a comprehensive approach to safety and innovative technology.
In tandem with the growth in the global demand for energy over the past half century, MOL has developed its energy transport business on a worldwide scale, backed by the world's largest fleet, a track record of success and decades of know-how.
The energy transport sectors, including crude oil and LNG, require advanced technological capabilities and the company provides targeted education and training programmes to ensure seafarers fully understand the relevant technical principles. Covering both hardware and software aspects, MOL's rigorous safety system underpins the safe and reliable delivery of energy supplies.
Demand for LNG continues to increase, due not least to its attractions as an environment-friendly, clean energy source. MOL has accumulated considerable expertise in LNG transport since it became involved with the sector in 1984 on delivery of its 125,835 m3 LNG carrier Senshu Maru. Today, MOL is at the forefront of LNG carrier ownership, management and operations. As just one example of its innovations in this sector, in 2018 MOL became the first Asian shipping company to operate an icebreaking LNG carrier for the Yamal LNG project and pioneer LNGC voyages on the Northern Sea Route.
MOL manages its approximately 70 LNG carriers through six companies around the globe, in Tokyo, London, Hong Kong, Jakarta, Muscat (Oman) and Arzew (Algeria), and also owns and operates LPG tankers. In 2016, building upon its LNG and LPG carrier experience, it began operating the world's first very large ethane carrier in a strategic tie with Reliance Industries Ltd in India.
MOL is also combining its LNG transport, floating LNG and power concepts with the secondary businesses of small-scale LNG carrier operations, LNG bunkering and LNG trucking to provide a full service package for its customers in the LNG sector. The provision of these services, linked with a growing emphasis on renewable energy solutions, will be a key focus for MOL going forward as part of the global drives to supply clean energy and reduce environmental pollution.
MOL and SIGTTO
MOL's involvement with SIGTTO activities stretches back to the Society's inception four decades ago. The company is a member of the SIGTTO Board and its staff actively participates in the work of the Society's General Purposes and Human Element Committees (GPC and HEC). Steve Allibone, general manager – competency assurance with MOL LNG Transport (Europe) Ltd, reports, "The company has been engaged in HEC activities since that body's formation in 2016 and in 2019 I took the chair of the Committee. A number of HEC working groups have been established and the Committee's first publication, Recommendations for Management of Cargo Alarm Systems, is set to be followed by many more. I am gratified to be involved in the drafting of these new SIGTTO human element publications."
During its long association with the SIGTTO membership MOL has benefited from meeting all the like-minded industry figures who strive for an incident-free future for the liquefied gas shipping and terminal businesses. "The knowledge shared between SIGTTO members has been of immense value to both individual companies and the industry as a whole," states Kenta Matsuzaka, managing executive officer at MOL and one of the SIGTTO Board members. "As technology continually changes, it is important that experiences are shared and lessons learned for the benefit of all members. MOL looks forward to its continuing participation in SIGTTO and sharing its own great experience of the liquefied gas industry with the membership."
Visit Website: https://www.mol.co.jp/