"Being a SIGTTO member has been a key part of our success. We share the Society's goals and vision and have been pleased to participate in, and benefit from, SIGTTO's work in developing codes of industry best practice and operational excellence."
Sergey Popravko, Managing Director of SCF Management Services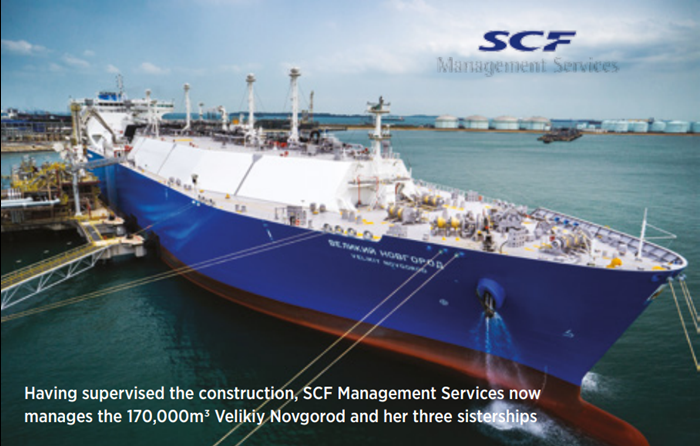 About SCF Management Services
SCF Management Services was established in 1991 and is responsible for the fleet technical management of PAO Sovcomflot (SCF Group), Russia's largest shipping company and a leader in energy shipping. PAO Sovcomflot, a public company quoted on the Moscow Exchange, specialises in shipping crude oil, petroleum products and LNG as well as servicing offshore upstream oil and gas installations and equipment. Its fleet comprises 134 vessels (total deadweight of over 11.6 million tonnes).
In terms of gas carriers, SCF Management Services is responsible for the technical operation of: 10 LNG carriers (with 25 LNG carriers on order); 4 LPG carriers, and I LNG Floating Storage and Regasification vessel. It also provides technical management services to other companies, such as NYK and Gazprom.
In 2005, SCF Management Services joined SIGTTO as it began to establish a presence in the LNG/LPG ship management sector. At around the same time the company became an approved ice class operator. Today SCF Management Services manages some of the most technically advanced and pioneering gas carriers including Christophe de Margerie, the world's first Arctic LNG carrier, with an icebreaking capability. Many of the vessels are active in the Baltic Sea and Arctic Ocean, including along the Northern Sea Route and to Canada's Baffin Island.
SCF Management Services has completed a number of signifncant shipbuilding projects, including the LNG carrier SCF Timmerman. Delivered in January 2021, this was the third vessel in a series of 174,000-cbm new-generation Atlanticmax LNG carriers ordered by SCF Group. Vessels in this series incorporate the latest technologies in terms of safety, environmental protection, and energy efficiency, with their fuel consumption substantially reduced compared to the preceding generation of vessels. Each is equipped with an advanced cargo containment system, slow-speed dual-fuel X-DF engine, and a system that reduces nitrogen oxide emissions while the vessel sails in liquid fuel mode. In addition, vessels of the series are among the first globally to feature a boil-off gas partial re-liquefaction system, which significantly reduces cargo losses while on long voyages or awaiting cargo operations.
Safety and sustainability are an integral part of SCF's long-term strategy, with the company operating under the mantra of 'Safety Comes First' and adopting a Green Charter to reduce steadily its carbon footprint, through technological innovations and training programmes for its personnel.  Already, over the past decade, SCF has reduced its fleet carbon intensity index by around 30 per cent. However, the importance of people in achieving the desired outcomes cannot be understated. As Sergey Popravko, Managing Director of SCF Management Services notes:
"Having stable crewing arrangements, with qualified seafarers, is one of the key competitive advantages of SCF Management Services. It is no coincidence that over the past 10 years, SCF Group's fleet operating indicators are better than the industry averages – despite the fact SCF operates vessels that are increasingly complex, from a technical standpoint, which require in-depth knowledge, having a strong safety culture as well as constant crew and technical training."
*As of November 2021
SCF Management Services and SIGTTO
Since 2005, SCF Management Services is proud to have been an active member of SIGTTO, hosting meetings on behalf of the Society over the years and contributing in many other ways to its growth and development.
Sergey Popravko sums up the mutually beneficial relationship noting that:
"Being a SIGTTO member has been a key part of our success. We share the Society's goals and vision and have been pleased to participate in, and benefit from, SIGTTO's work in developing codes of industry best practice and operational excellence. As a member, we can confirm that SIGTTO has made an invaluable contribution to the exemplary safety record established by the gas shipping and terminal industry."
"'Safety Comes First', as emblazoned on the superstructure of our ships, is a principle to which we have adhered throughout the many years we have served the industry. Whilst we apply this guiding principle with rigour across every ship we manage, ensuring compliance for gas carriers and ice-class vessels provides extra challenges. We are proud to be amongst the industry leaders active in establishing, refining, and maintaining the high standards required."
Visit Website: http://www.scf-group.com/en/
Instagram: Sovcomflotgroup
Facebook: Sovcomflot​